Joey and Diana Gannascoli [Joey played Vito in the HBO series The Sopranos] had a spectacular wedding at The Vanderbilt on Staten Island. It was on the beach overlooking the Verazzano bridge.
Lisa made up the bride, her family and the maid of honor. [She did a little touch up on the groom too!] Lisa and her husband also had the pleasure of attending the event of the year!! The food - from the cocktail hour to the Viennese deserts table and everything in between - was simply mouth watering. The bride and groom looked like royalty and made the perfect couple. There were so many highlights at the affair like Opera singing and Andrea Bocelli music! Another big surprise was when the cast from The Sopranos (pictured below) all got up and toasted the new bride and groom. Three of them even sang to the couple. It was hysterical and quite entertaining to say the least.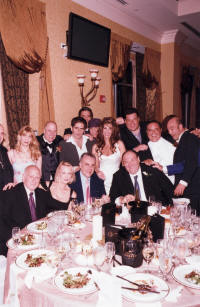 What was the most exciting part of this grand wedding for Lisa? That at the end of the affair eight hours later, Diana's make-up
was still on and still had that special glow!!